Romania
We are traversing Europe at a fair lick and are now in Romania. The Garmin Inreach tracker is working well and you can see a screen dump of it below.
When we crossed from Hungary into Romania we found the first real frontier. Bored guards flicking through passports and rolling their eyes when I had to dive into the back of the Landy to find the documents tucked away in our safe.
We decided to leave the motorway and drove through small villages with small bungalow type houses on wide streets and the weather was making an attempt at spring, bringing old men out on benches to watch the world go by.
This is the first time we have seen horses and carts in the lanes carrying logs as well as modern agricultural machinery.
We decided to stopover at Timisoara as recommended by our Romanian friends George and Maria.
It is where the Romanian revolution spontaneously started in 1989 and it is the capital city of Timiș County, and the third most populous city in the country, with over 300,000 inhabitants. In September 2016. In 1989, many people young and old paid the ultimate price for greater freedom and democracy.
https://en.wikipedia.org/wiki/Timișoara
We decided that the one campsite out of town would not do for Landy, with a star rating of 1 on trip advisor and horrendous reviews. We cannot sleep in town in the back of the car, so we found a fab Airbnb near the centre of town with good street parking for £22 a night. (We never said we wouldn't vary the sleeping arrangements.)
Jim is making coffee, which is gurgling away and I am cracking the blogging technology thanks to international IT support from Jess.
The town itself was full of lovely surprises. There are more fine buildings and squares here than you could shake a stick at.  Not surprisingly it is to be European City of Culture in 2021.  And we saw it first!
To make matters even better, the sun came out and family groups were all out in the streets buying ice creams and cooling drinks.

Can you believe that we filled up in Charolles in France and did not need more fuel till Romania. Passed through Switzerland, Italy, Austria, Hungary and Slovenia without filling up! Filled up one tank in Romania. Deisel about £1 a litre and reducing from now on.
On Tuesday 13th March we continued towards Sibiu, stopping over at Deva to see a castle and a Dacian ruin. We found the leak in the roof of Landy had got worse and all the bedding, cushions and pockets were wet this morning. We found a small garage in Deva and the guys totally refused to take any money for climbing on the roof and liberally squirting around with black mastic.
Our landlady in Deva walked off with the wet bedding! So hopefully we are sorted. Will let you know when we get the next downpour.
We spent Wednesday 14 March in Deva and other parts of Transylvania. With guidance from the helpful woman at the Tourist Centre we climbed Deva Castle, first mentioned in 1269, and then rode down in the funicular railway. We then visited Hunedoara, which juxtaposes another fairy tale castle, this time dating from 1440, with a steel works more massive and less active than Newport, South Wales.
The highlight of the day was the visit to the remote mountain city of Sarmizegetusa Regia. This was not just a fortress but also a religious centre which looked remarkably similar to Stonehenge. It was the capital city of Decebalus, King of the Dacians, who ambushed and destroyed two Roman legions in 86 AD. Decebalus was eventually defeated by the Roman Emperor Trajan in 106 AD. The city of Deva, in an evenhanded way, has statutes of both Decebalus and Trajan.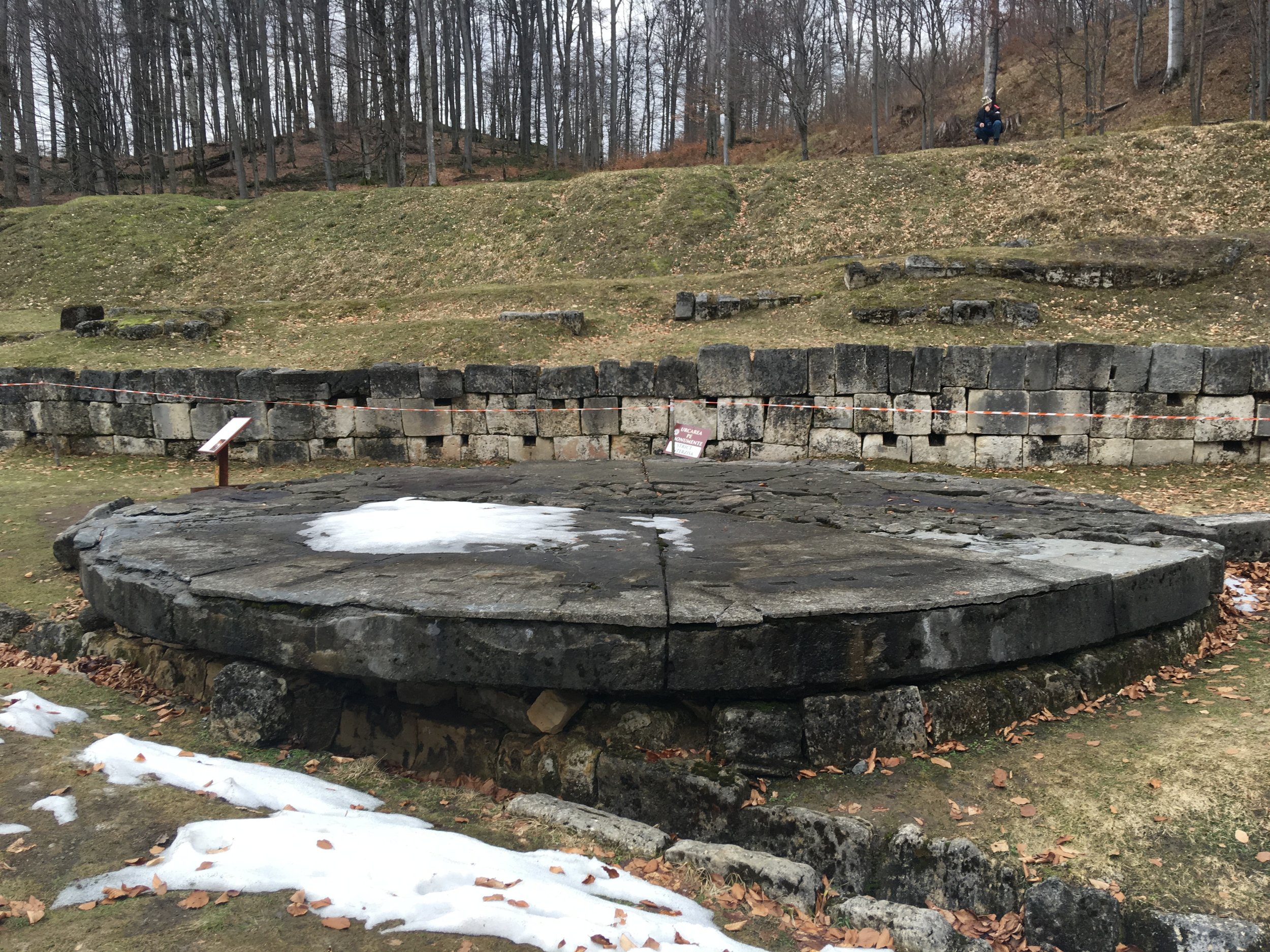 15/16 March
Whilst looking for campsites near Alba Ilulia, we lighted upon Taranomada located in a very remote village that was hard to find on the map. They claimed to be open all year round and boasted local walks and a bit of a rustic set up. We headed off and found a Dutch couple with two small children that had escaped from their workaday lives and had exchanged it for an idyllic farm plot nestled at the end of a beautiful valley with a fast flowing river. They had basic but very adequate facilities for campers and were very welcoming and friendly. Our Landy stopped outside their bunkhouse just inside their garden. Their toilet block was totally freezing but the showers lovely and warm and the place was just fab.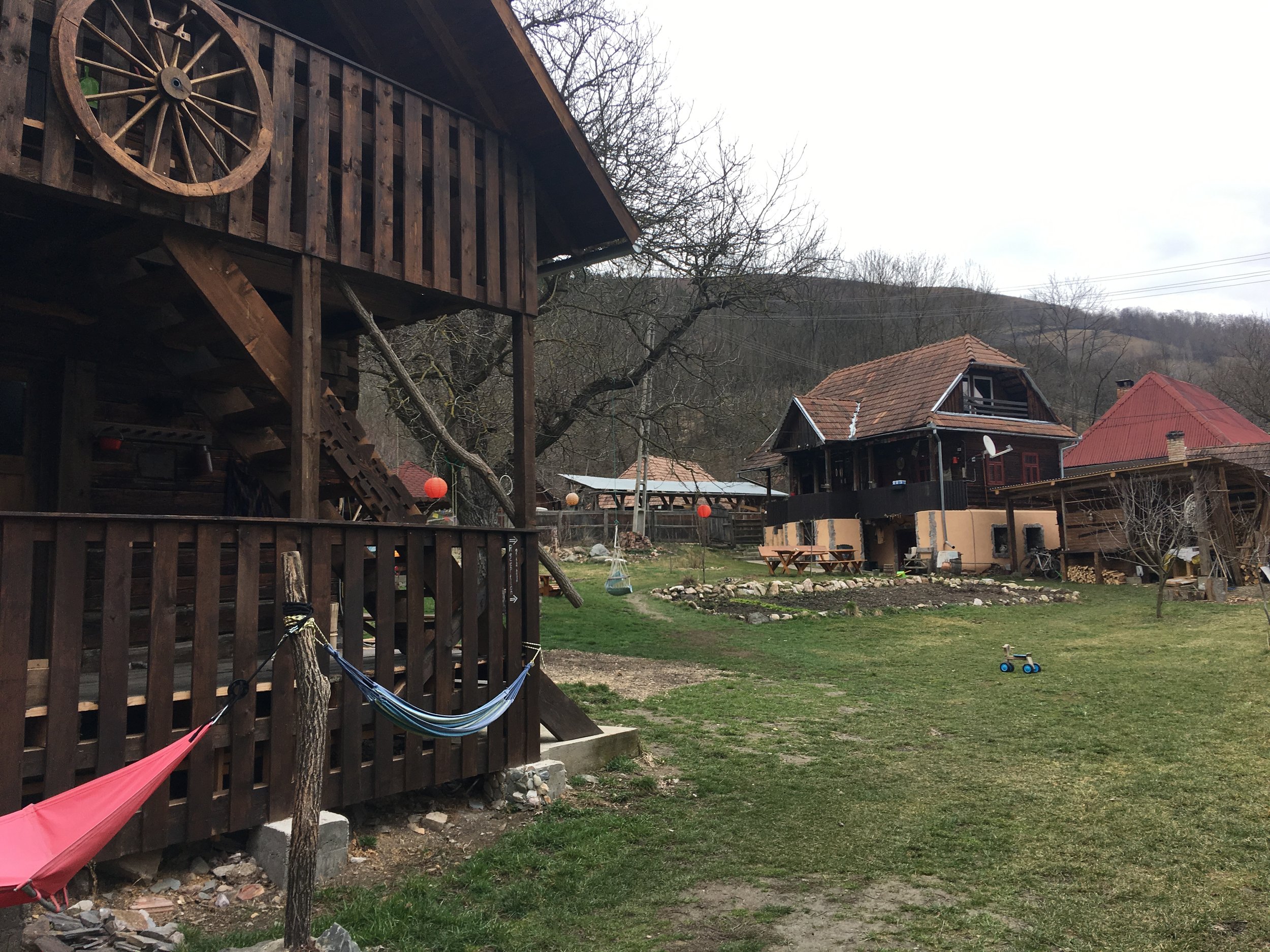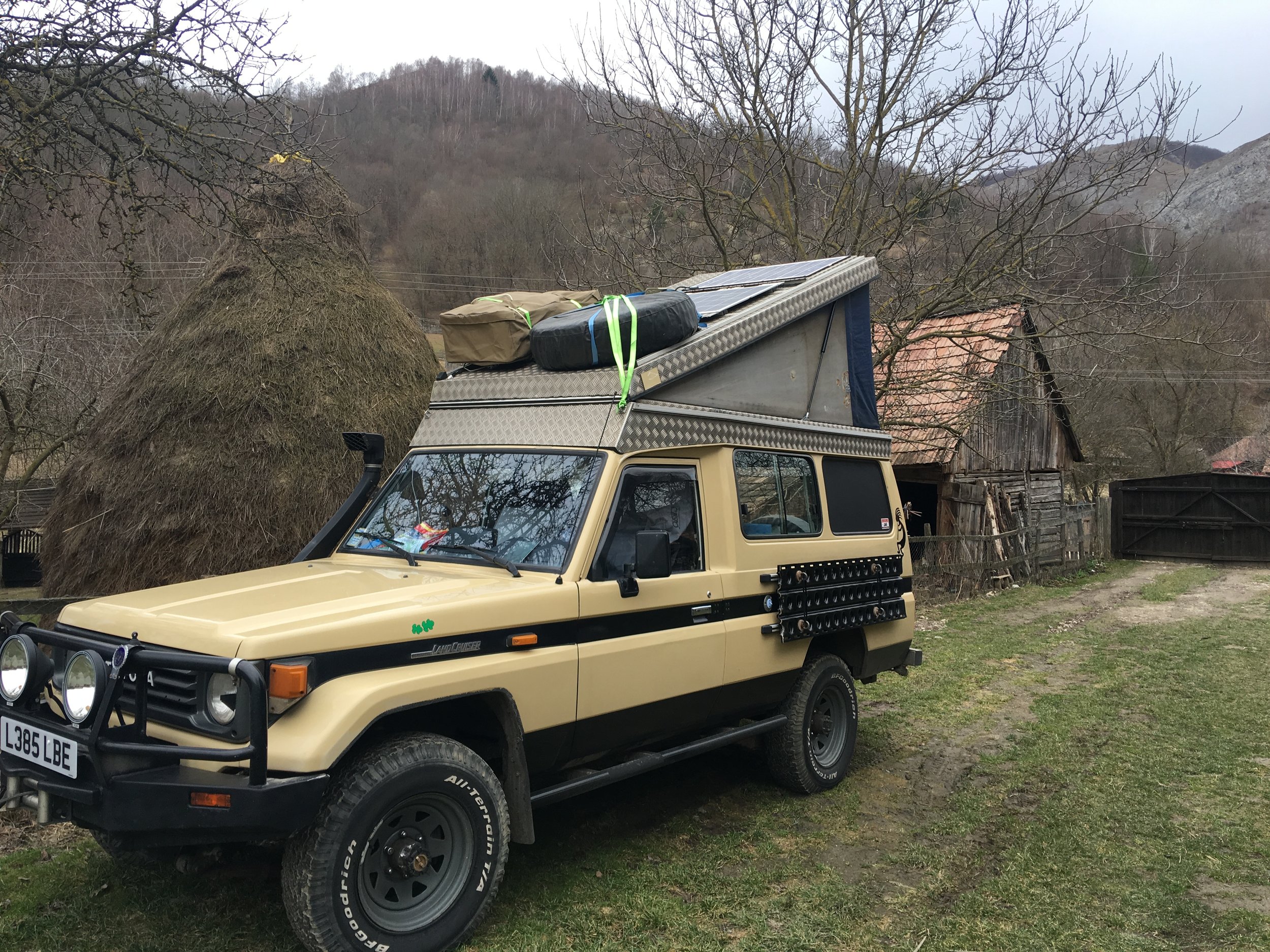 We were also booked in for a genuine village meal with elderly Romanian villagers who had particularly supported them in becoming part of village life.
The recommended long walk up into the mountains was just the anti-dote Jim and I needed from 'travelling'. We passed abandoned shepherds huts and decorative crosses marked the paths. The next day we were heading off to find the Transfargaren Highway in the Fagaras Mountains.
We spent 18 March meeting our friends George and Maria's parents in Pitesti. They were extremely hospitable: met us on the outside of town, plied us with drinks, cooked us a delicious meal and gave us some lovely presents. Altogether, we had a great evening and look forward to seeing them again in May. Nice to spend a night in the luxury of a private home.
On 19 March we visited the Turkmenistan embassy in Bucharest to enquire unsuccessfully about our visa. It was Election Day in Turkmenistan and we were shown into the polling station by the helpful staff member. Sadly, turnout seemed light as testified by the entirely virgin snow outside the embassy although it was 1 pm.
As the snow was forecast to be quite heavy we headed to the comparative warmth of the Black Sea and the ancient port of Constanta. We debated why the Emperor Augustus banished Ovid to Constanta and looked at Ovid's statute in the old town. As the snow was continuing to fall even on the coast, we headed south to Bulgaria.
On 20 March, despite being further south, the snow grew heavier, looking incredibly beautiful, but blocking Bulgarian route 7. So we had to skirt round to reach the Turkish border.
This was a serious border and we had to pay 87 euros for car insurance. We visited Edirne with its magnificent mosque dating from 1569. It was great to camp for the night without snow and sub zero temperatures, indeed 9 degrees centigrade and a sunset.